Mafia Wars Meet and Greet : Denver, CO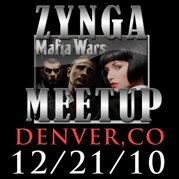 If you are interested in coming, please RSVP HERE .
Come to Denver's Mafia Wars Meet & Greet!
Join Us During this Exclusive Happy Hour Event!
Nate From Zynga ( Blue-Eyed Nate) Will also be joining
Jana Gucci for this event.
Nate will be bringing along plenty of Zynga Giveaways!
Be sure you also enter the Raffle,
A Zynga Mafia Wars Gift Card Will Be Up For Grabs
If you currently live, or are going to be in Denver area,
Don't miss out…
Come down, Hang out,
Spend this Happy Hour with Jana & Nate!
•Meet other people that play Mafia Wars and join mafia's,
•Win prizes,
•Photo opportunities,
•Swag and more…
We'll See Ya There!
Location :  The Jet Lounge