12 Days of Christmas Contest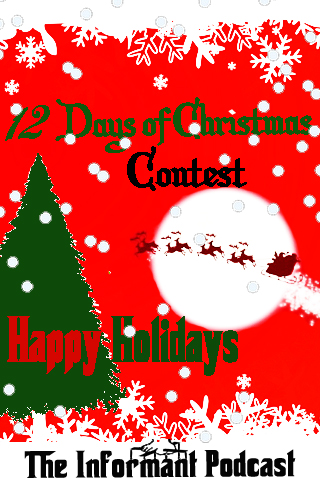 To enter the contest simply post "Happy Holidays"  in the Discussion Thread on the Fan Page HERE.
Your post will be your entry number. No Double Entries.
The Winners will be drawn at Random starting on Monday Dec. 13th and will draw one winner each day, ending on Dec 24th
Prizes are as follows :
12th day – (Dec 13th) 100 Range Finder Rifles
11th day – (Dec 14th) 100 Cooling Vests
10th day – (Dec 15th) 100 Ares Power Armor
9th day –  (Dec 16th) Pantheon Trophies Collection
8th day –  (Dec 17th) Continental Rings Collection
7th day –  (Dec 18th) Championship Belts Collection
6th day –  (Dec 19th) 200  Goldsmobiles
5th day –  (Dec 20th) Operations Collection
4th day –  (Dec 21st) Diamond Set
3rd day –  (Dec 22nd) Lotto Set
2nd day – (Dec 23rd) $15 MW Gift Card
1st day  – (Dec 24th) $15 MW Gift Card & Lotto Set
Happy Holidays to everyone and their families, from all of us here at
The Informant Podcast.