TIP now available in Blackberry Podcast Catalog!
We have been listed!
It took a while but I was finally able to get our show in Blackberry's Podcast catalog.
If you have not downloaded the BlackBerry® Podcast app, do it now so you can have The Informant Podcast downloaded to your Crackberry automatically when we post the new shows. Search for Informant or browse the Games & Hobbies category.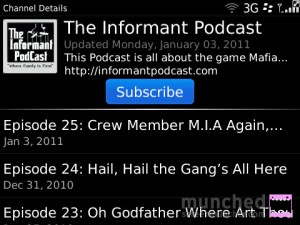 Download the BlackBerry Podcast app from App World or Blackberry.
~Chainsaw Chester